100 Mile Ranch
100 Mile House - British Columbia
250-395-2855
---



A Fourth Generation Cecil Family Ranch


The Ranch is located in the South Cariboo in 100 Mile House, BC Canada. 100 Mile Ranch has a 100 year history of cattle ranching, sheep farming, horse breeding, tree farming, hay production and land leases and sales.
---
100 Mile Ranch - Slideshow
---
A Recent Visitor Since 2010
The Lovestruck 100 Mile Ranch Elk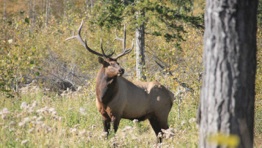 B.C. Elk 100 Mile
---
All Our Hay Is Lab Tested


Every year our hay is quality tested for Protein, TDN (Total Digest Nutrients), Sugar Levels, and PH Balance by 'Central Testing Laboratory'.